Keynote&Invited Speakers



In order to deepen the communication in all the participants, ICCBB 2021 have invited professors from local Bali and all over the world to have speeches about Computational Biology and Bioinformatics and related fields.



Keynote Speaker I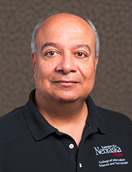 Prof. Hesham H. Ali
University of Nebraska at Omaha, USA
Hesham H. Ali is a Professor of Computer Science and Lee and Wilma Seemann Distinguished Dean of the College of Information Science and Technology at the University of Nebraska at Omaha (UNO). He also serves as the director of the UNO Bioinformatics Core Facility that supports a large number of biomedical research projects in Nebraska. He has published numerous articles in various IT areas including scheduling, distributed systems, data analytics, wireless networks, and Bioinformatics. He has also published two books in scheduling and graph algorithms, and several book chapters in Bioinformatics. He has been serving as the PI or Co-PI of several projects funded by NSF, NIH and Nebraska Research Initiative in the areas of data analytics, wireless networks and Bioinformatics. He has also been leading a Research Group that focuses on developing innovative computational approaches to model complex biomedical systems and analyze big bioinformatics data. The research group is currently developing several next generation big data analytics tools for mining various types of large-scale biological and medical data. This includes the development of new graph theoretic models for assembling short reads obtained from high throughput instruments, as well as employing a novel correlation networks approach for analyzing large heterogeneous biological and health data associated with various biomedical research areas, particularly projects associated with infectious diseases, microbiome studies and aging research. He has also been leading two projects for developing secure and energy-aware wireless infrastructure to address tracking and monitoring problems in medical environments, particularly to study mobility profiling for advancing personalized healthcare.
Keynote Speaker II

Prof. Sung Wing Kin
National University of Singapore, Singapore
Prof. Dr. Wing-Kin Sung received both the B.Sc. and the Ph.D. degree in the Department of Computer Science from the University of Hong Kong in 1993, 1998, respectively. He is a professor in the Department of Computer Science, School of Computing, NUS. Also, he is a senior group leader in Genome Institute of Singapore. He has over 20 years experience in Algorithm and Bioinformatics research. He also teaches courses on bioinformatics for both undergraduate and postgraduate. He was conferred the 2003 FIT paper award (Japan), the 2006 National Science Award (Singapore), and the 2008 Young Researcher Award (NUS) for his research contribution in algorithm and bioinformatics.